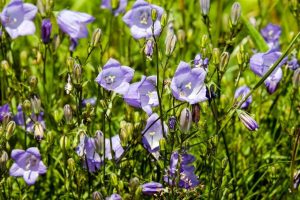 It was a carpet of dazzling, striking blue, that first drew my childish eyes to you.
In the mass, it was hard to see your individual artistry clearly displayed.
Up close, I could admire you as a truly drooping colorful work of art, exquisitely made.

Each tiny bell, dangling downwards on small delicate connections, frolicking in the gentle breeze,
'Shouting, I'm out, I'm out spring is really about, come and see, I'm sure if you do, you will really be pleased to see me.'
A tantalizing scent floats away, as you sway on a stalk above your bed, a nest of long, lazily spreading green leaves.
When you are out on full display, weeds don't stand a chance as your thick mattress bars their way.
'Thank you bluebells, for years of delight, from my first sight, in early childhood, through to, I hope, a ripe old age.'
As each year, under the tree-top canopy, sprouting fresh green, your heavenly-blue carpet, is there, waiting to be seen.
Copyright © WobblingPen